ZEVON'S QUASI-BAD CHILE RECIPE
This recipe was taken from Warren Zevon's biography "I'll Sleep When I'm Dead...The Dirty Life and Times of Warren Zevon" Within the book itself (which I highly recommend reading) this recipe appeared in very small print. I blew it up and posted it here--this Chile recipe ROCKS just like Warren..what's cool too, is Warren typed it out himself...so it's surely from Mr. Bad Example, and references were made in his biography about cooking up batches of it for his friends...Warren may have been quoted near the end of his life as saying "Enjoy Every Sandwich"...but I gotta tell ya...he surely enjoyed Chile too ! I've added a few personal notes regarding the preparation and ingredients you'll need at the bottom of this page...this really whips up a fantastic batch of Chile, well worth making...Here's a link to a PDF file for easily printing this out...Spicy trails to you...Jule
ZEVON_Chile.pdf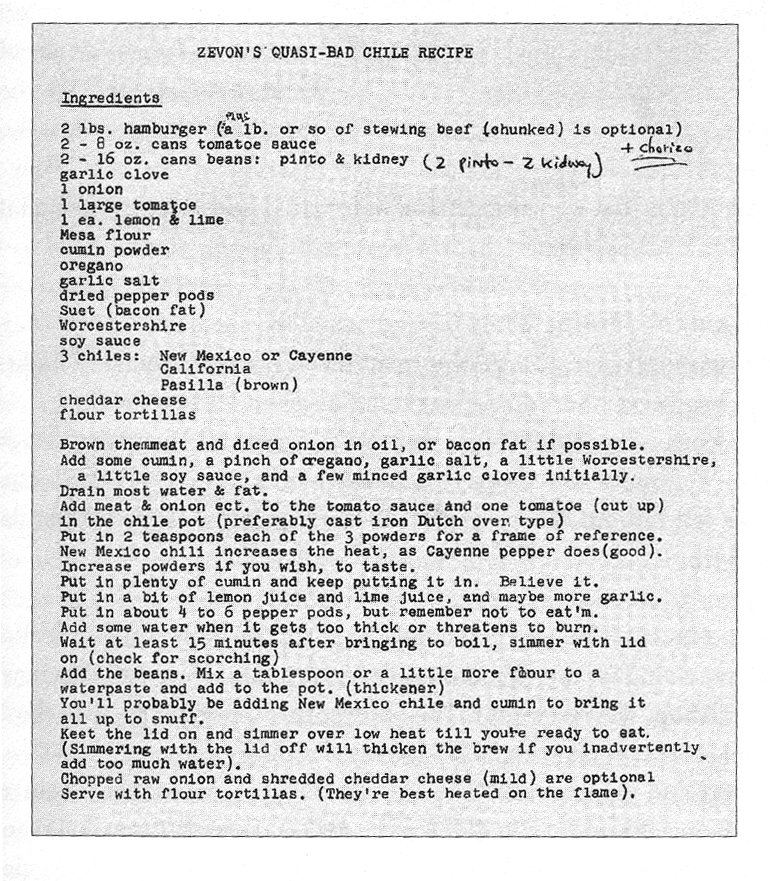 NOTES: Chorizo is a highly seasoned Spanish (hog) sausage, not costly and available at most larger marketplaces. I substituted the Mesa Flour for two tablespoons of Corn Starch mixed with a little less than 1/4 cup of warm water. I tended to go easy on Warren's recommendations for the three Chili Powders...he surely liked his smokin' hot...but... I went with 1 teaspoon of New Mexico/Cayenne and one teaspoon California, and about three teaspoons of the Pasilla, or darker chili powder. If you cannot get all three of these, go with a higher end brand of darker chili powder, and cayenne pepper. I purchased dried California Chile pods (reasonably priced) but put in three for a little while of cooking then removed them...as this recipe was threatening to grow hair on my chest! ha! The addition of the lime and lemon juice added alot to the flavor. Even though I cut back on the "heat" of this recipe...it still was quite hot and spicy (like Warren !) -- so, which I often do with my Mexican dishes, I added a few tablespoons of sugar while simmering to lighten the load so to speak. Other than the few changes I incorporated, I would follow this recipe to the tee...and Warren is right on about adding mucho Cumin..it brings out the je ne sais quoi presence in this dish...oh yes...and in addition to the shredded mild cheddar cheese, I also put some sour cream on top...
Heat the tortillas in a dry frying pan, flipping a few times...YUM !
It's almost as good as rubbing Pot Roast all over yer chest !!!!! ha!
PS--this recipe is best prepared while blasting Zevon's music...visit WarrenZevon.com...home of one of the greatest there ever was...